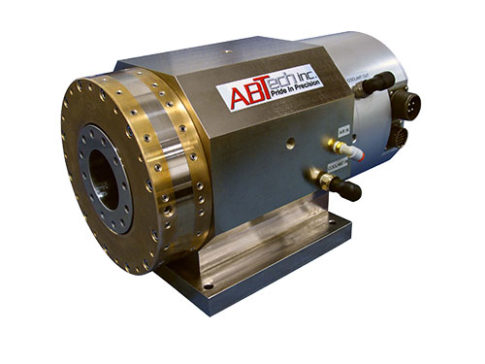 Spindles are one of the three main categories of precision motion components that we offer here at ABTech. But what exactly is a spindle? What is the purpose of a spindle? And how do you know which type of spindle is best for your application? Keep reading to get the answers to those very questions.
Defining Spindles
Spindles, in simple terms, are pieces of manufacturing equipment; however, they are more complex than just that. A spindle is a piece of machinery that rotates and offers a fixture to hold a tool or workpiece. The spindle shaft supports, positions, and spins said tool. And ABTech spindles have the ability to spin anywhere from 1,000 RPM to 20,000 RPM, which is very fast. But why would you need a spindle, especially one of that caliber?
Purpose Behind the Product
Spindles are actually used for many different applications. They are utilized for diamond turning, grinding, optical scanning, and so much more. In fact, ABTech made spindles for a camera system used in the European high-speed rail system. It is evident that spindles have various uses in many different environments. And this is especially true when considering the different types.
Navigating the Options
There are two major types of spindles: air-bearing and mechanical-bearing. But how do you know which to utilize for your application? In general, air-bearing spindles, which have no contacting mechanical parts, are best for low-speed configurations for work holding, or higher speed for grinding and scanning applications. On the other hand, mechanical-bearing spindles, which do have contacting mechanical parts, are most useful as stand-alone units or multi-axis assemblies for optical scanning, machining, and grinding. However, there are always outliers, and there are many more uses for spindles, so the best way to know which kind is best for your use is to reach out to us at ABTech.
That's a Wrap
In all, spindles are necessary in many different scenarios. Whether being used for diamond turning or a camera system, there are many purposes behind the product. However, with the numerous uses, and the different types, picking the right spindle for your application may pose a challenge. So get in contact with ABTech today; we will get you hooked up with the perfect piece of equipment for your needs.