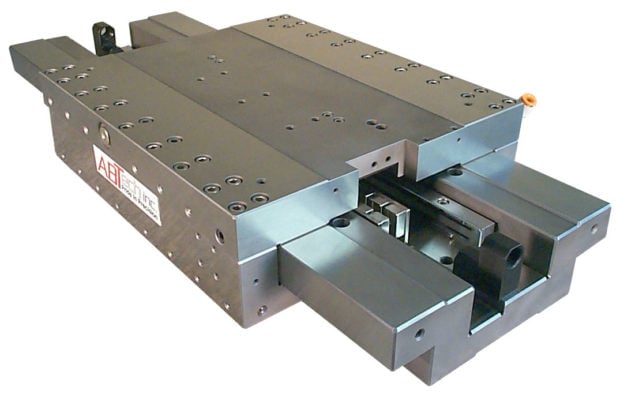 You may or may not have ever heard of linear stages, but they play an important role in many manufacturing environments. In fact, they are one of the three main categories of precision motion components offered here at ABTech, sitting alongside our rotary tables and spindles. What is essential about linear stages, themselves, though? Here is a breakdown of the what, the why, and the different kinds.
What is a Linear Stage?
Linear stages are positioning devices that are oftentimes used in applications that require high-performance precision motion and minimal runout. They are used to restrict a part or object to a single axis of motion but are sometimes used as part of a larger, multi-axis assembly. Though especially useful in photonics and semiconductor manufacturing, linear stages can be used across various industries.
So Why Use Linear Stages?
Now that the "what" has been established, why are linear stages important? Well, beyond efficiency, linear stages provide extremely smooth motion, submicron accuracy, and absolute repeatability. They offer capacity for parts of various sizes and weights as well, making them dynamic equipment. Why linear stages? Because they are efficient, accurate, and dynamic, bringing manufacturing to a new level.
The Different Kinds
Three of the major kinds of linear stages are air-bearing, oil hydrostatic, and mechanical-bearing. The differences between these linear stages are just as the names suggest. Air-bearing stages have no touching mechanical parts due to the airflow, while similarly, oil hydrostatic stages have a fluid film, avoiding contacting mechanical parts and providing high load capacity and stiffness. Mechanical-bearing linear stages are different in that they do have touching mechanical parts called cross roller linear guide rails.
Recap: What Kind Should You Buy?
It is evident that linear stages play a significant role in many manufacturing environments due to their high performance in both accuracy and repeatability. But with different options such as air-, oil-, and mechanical-bearing, it may be challenging to navigate a purchase. And with so many variables such as part size, industry, and usage, it is almost impossible to generalize suggestions. That said, if you are interested in a linear stage but do not know where to start, we are here to help. Contact us at ABTech and we will be happy to get you on the right track.