We at ABTech are introducing new precision centering fixtures for metrology use with higher accuracy and repeatability than traditional work holding chucks and a lower profile.
Set up is critical in performing ultra-precision measurements, but it doesn't have to take up a lot of time.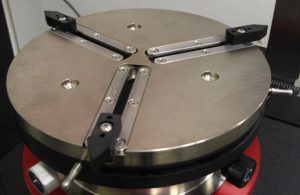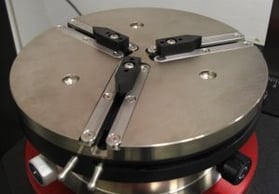 Mount this precision centering fixture to a rotary table, roundness gage or other measurement axis for quick alignment to the rotational axis. Fixtures are designed for use on lightweight parts with a range up to 6" in diameter and 10 pounds in total weight. Spring loaded jaws will hold parts under 5 pounds in position during measurements (parts up to 10 pounds are heavy enough to stay in position on their own). Jaws are made of mar-resistant Delrin and are reversible for best contact to a variety of parts.