ABTech has designed a new high-speed air-bearing spindle to address specific requirements for an ultra-precision optical grinding application. Of particular interest to the machine manufacturer was added robustness of the spindle to overcome catastrophic crashes experienced with their primary supplier.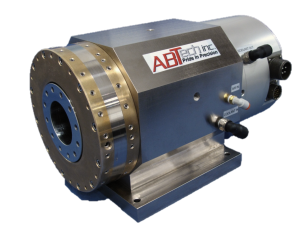 High accuracy and stiffness at speeds up to 10,000 RPMs, along with low air consumption, liquid cooling, and balancing adjustments were required to be packed into a small overall footprint.
The result is the all-new model SP138.