NASA scientists challenged ABTech to develop a multifunctional machine that would act as a grinding lathe, an indexing tool for raster grinding, and an assembly station—all in one. The machine would safely and quickly produce optics for their long-delayed NuSTAR X-ray telescope. ABTech met the challenge and delivered the machines to Columbia University's Nevis Astrophysics Lab to help put the project back on schedule.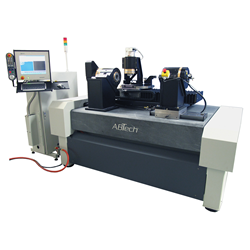 The two turn-key, air-bearing-based optics assembly machines grind the graphite mounting surfaces for 4,680 optical glass segments and assemble the cylindrical optics modules for NASA's NuSTAR telescope. Each multi-functional machine incorporates ultra-precision ABTech manufactured air-bearings with direct drive motors and high-resolution encoders.
Each machine has an extended travel Y-axis stacked onto dual parallel linear air bearings set with a wide stance to serve as the X-axis. An ABTech high-speed air bearing spindle is mounted on a unique custom-designed indexing turret. Coaxial headstock and tailstock air-bearing spindles make up the precision lathe, which required ABTech to customize the CNC controller to operate in dual functioning lathe and indexing modes.
The contract was awarded to ABTech based on the technical merits of our proposal and our proven ability to deliver custom systems within critical time frames.
Features of Our Contribution:
LAB-R series linear stacked air bearing stages straight and flat to less than 20 micro-inches (0.5 microns) over the full 24 inches (600mm) travel
Air bearing work holding and tailstock spindles (model WHS-180) for lathe operation or holding position of the optic during assembly and grinding
SP-125 high-speed air bearing spindle for grinding graphite mounting surfaces
Indexing turret assembly to quickly and easily transition between diamond turning, grinding, and LVDT measurements
Granite surface plate and airbag style vibration isolation base frame
Ergonomic and multi-functional platform with both front and rear access
Customized Delta Tau CNC controller and electrical control cabinet