From the Quality Team at Fives Giddings and Lewis in Fond du Lac, Wisconsin (October 22, 2013):
"At Fives Giddings and Lewis, we have always prided ourselves in inspecting part pieces and assemblies to an extremely high degree of accuracy. With our high-speed spindle assemblies and precise part pieces, we are able to ensure measurements are of a high degree of accuracy. I personally remember almost 40 years ago how the trace was burned onto the carbon-backed paper and over the years how we have used several different gages. Things have changed just a little!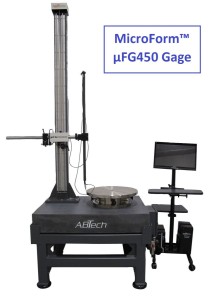 We purchased the ABTech Model µFG450/600 MicroForm Roundness gage just over a year ago and it has exceeded our expectations. We are continually trying to improve the performance of our products at Fives Giddings and Lewis, so naturally, when I used the older form gages through the years I had the same thought process – how could I have made this older model form gage perform better and more efficient. Over the years we have thought of quite a few creative ideas that the older form gage systems did not have. Shortly after purchasing the ABTech system, we approached ABTech with some novel ideas on software/hardware changes, and they were not only willing but able and successful at implementing our ideas for enhancement, which I personally thought was especially noteworthy.
We believe that a relationship like this will be a win-win and will provide continued success for ABTech and keep Fives Giddings and Lewis on the leading edge in quality.
Thanks again for a job well done."