Moore Nanotechnologies (a subsidiary of Moore Tools) has recently received one of ABTech's MicroForm roundness gages to update their form measurement capabilities.

Nanotech needed a new system that could certify accuracies of their master test balls and measure roundness, parallelism, and perpendicularity (squareness) of their ultra-precision B-axis rotary table components. Within an hour of installation, Randy and Mark were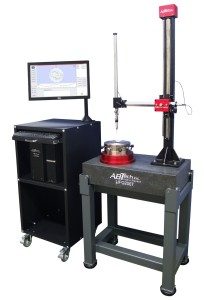 getting consistent results of 1 to 2 millionths of an inch (25-50 nanometers) and commenting how quick and easy the gage and software are to use.
MicroForm gages are available with 6″ up to 30″ diameter ultra-precision air-bearing rotary tables as the accurate and repeatable reference axis. Combining state-of-the-art electronics and proprietary software MicroForm gages are the most stable and robust metrology gages to measure and assemble precision aircraft, aerospace, automotive, optics, semiconductor, land-based turbines, and other precision manufactured parts to the tightest tolerances.
As with all of our products, MicroForm™ gages and proprietary software are designed, manufactured, assembled, and tested exclusively by ABTech at our Swanzey, New Hampshire facility. Every gage reflects ABTech's high-quality standards and exemplifies our company-wide commitment to "Pride in Precision" craftsmanship.