ABTech now offers retrofits to convert older air-bearing roundness gages from other manufacturers to our state-of-the-art MicroForm™ system.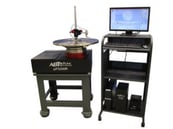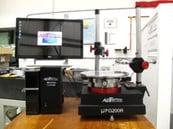 Precision manufacturers have used roundness gages for decades to inspect parts for roundness, flatness, concentricity, and other form measurements. Many companies still have the same gages from the 1980s and 1990s. The beauty of an air bearing-based gage is there are no contacting parts to wear out, so an air bearing that is 30 or 40 years old should still be as accurate as when it was first made.
The problem with old gages is that the controllers, computers, or monitors have failed, or are no longer supported so the next failure may be terminal. And most of the original gage manufacturers either no longer exist, no longer have the ability to diagnose and repair, or are not interested in repairing preferring instead to sell new equipment.
ABTech takes a different approach. Not only do we offer support and upgrades for our own products, but we see value in salvaging as much of a customer's older gage as possible. If we can be confident that each component will provide the required performance, stability, and reliability, we will recondition them, saving the customer substantial money compared to a new gage.
As long as the air-bearing can be refurbished, we re-certify its accuracy; add new electronics; a large 22" touchscreen monitor and a Windows-based PC loaded with our intuitive MicroForm software. The most common form measurements are included; covering runout, roundness, flatness, concentricity (in and out of plane), parallelism, and perpendicularity.
On-site installation, setup, and full system training are included with each gage. As is a full year of free software updates for a complete turnkey retrofit solution. Contact your ABTech sales representative for more information on retrofitting your gage.