OptiPro Systems, a well-respected optical machine manufacturer, came to ABTech with a concept and left with a complete motion system.
They first approached ABTech to supply just air-bearing stages for their prototype metrology station. Using their concept as the framework, we applied our expertise in multi-axis motion and our understanding of geometric measurement principles to propose the design, manufacture, and certify a complete motion platform. OptiPro was delighted with the result.
The result being: six ultra-precision-designed prototype metrology stations. Each axis has a direct drive motor and high-resolution encoder to help achieve rotary error motion of ±1 arc second over a 360° move, and linear accuracy of ±1 micron over 8 inches of travel in the X, Y, and Z directions.
The 10-inch (250mm) air-bearing rotary table with dual read heads is mounted on stacked X-Y air-bearing linear stages. The vertical Z-axis linear air bearing with ceramic rail supports a face-mounted 4 inch (100mm) air-bearing rotary and is counterbalanced over an air-bearing roller sleeve. The bi-level precision granite base is suspended on airbags on a vibration isolation stand to reduce outside interference.
Features Include:
Compact and uncluttered design with 5-axis motion
Granite, ceramic, and steel materials, and Invar linear scales for thermal stability
X-Y linear stages with vertical stiffness greater than 1 million pounds/inch
Rotary error motion: ±1 arc second total over 360° move
Accuracy: ±1 micron (±40 micro-inches) over 8 inches (200mm) linear travel in X, Y, and Z directions
Renishaw encoders and dual Signum 5 nm resolution read heads to eliminate odd error harmonics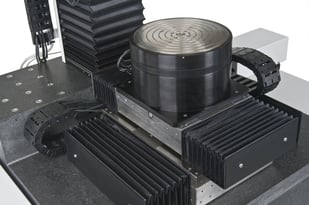 A Message from OptiPro
"OptiPro interviewed three potential candidate companies for our 5-axis UltraSurf non-contact metrology system. Although ABTech was the smallest of the three, we felt that their experience, engineering team and product knowledge was at the top of the list. Just as important to us was having a partner willing to work with us from our beginning concepts and design to the final product. By combining our ideas with their existing high precision air bearing slides and rotary axes, we worked together to develop what we believe is the best possible solution for non-contact measurement of optical components in the world today. Communication is key and they understand it. Great people to work with!" – Mike Bechtold, President