ABTech was approached to develop a custom thickness gage for a major US engine manufacturer. The need was for a gage that could measure thickness variation on engine bearing halves before and after Dyno testing to determine wear patterns and evaluate new materials and coatings. The gage needed to have an accuracy of 0.25 microns or better, and a resolution of .025 microns.
The MicroForm µFG150 gage platform with an air-bearing rotary table was used as the foundation for the gage to precisely rotate the bearing part.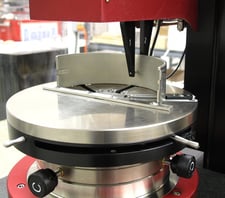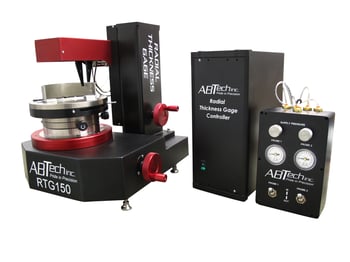 ABTech engineers leveraged existing component designs where possible, with modifications made to the adjustable tilt and center worktable assembly and vertical height adjustments. Completely new designs were needed for a quick part holding device; air actuation and controller for the probes; and a manual rotational drive mechanism.
One of the main challenges of this project was to provide the specified accuracy over a large thickness range requiring the development of miniature encoded linear air bearing stages to perform as the sensors. Two of these stages were used to trace the inner and outer surfaces of the bearings, creating a map of the part's thickness. Multiple traces made at different heights of the bearing are then overlaid and analyzed relative to each bearing's unique tolerance window as defined by the operator in the custom gage software.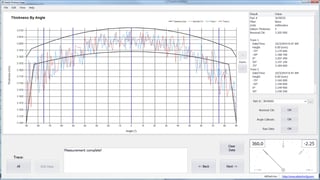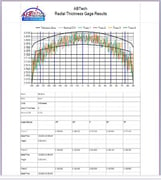 The project from final scope definition to gage delivery took less than ten months to complete. Installation and training at the manufacturer's research and development facility was performed in one day with actual parts off the Dyno being tested the same day.